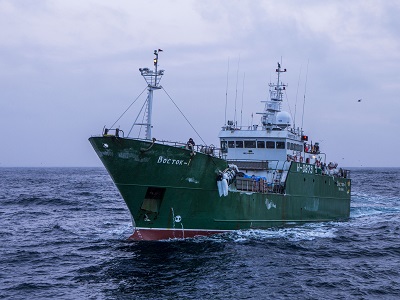 The company is the undisputed leader in harvesting of the deep-sea fish, grenadier, which in the near future will compete with pollock (the most massive fishery in the Far East basin) on the production scale.
Prospects for deep-sea fish species are enormous. Depths of 1200-2500 meters are completely unexplored and in practice we have seen huge reserves of this specimen. Another important factor to consider is that the ecological environment at such depth is especially clean.

Grenadier, like pollock, is part of the cod family, but in contrast to offshore fish doesn't have nematodes, which is an important factor to consider, and opens up an opportunity for consuming this specie in its raw form. Grenadier's biological quality and quantity of amino acids is significantly superior to any other type of fish.

Given its biological composition, it is believed that grenadier is an essential diet component for people with health problems. Eating a diet without fat is beneficial for people with heart conditions and other medical issues. Eating of grenadier is good for general maintenance of the body's good state, providing the body with useful and necessary natural substances, for an excellent state of health, energy, and good disposition.

The method of consumption is also important. For maximum benefit for the body, unlike any other product, grenadier should be consumed in raw.

The most accurate measure of grenadier's value is the price established by our customers. Since 2002, when this fishery was started, the price has risen significantly. Our product at this price is accessible to people with average incomes and has already surpassed the price of pollock – an assessment by our customers, even though these two products are in the same cod family.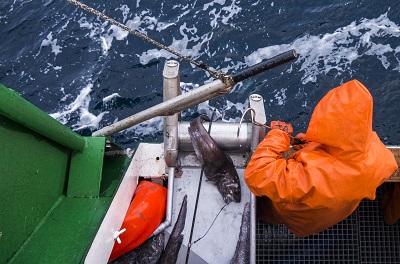 We harvest grenadier exclusively with longliners to ensure we deliver the best possible quality product to our customers. The product quality of longline fishing is much better than the quality of trawled fish where raw material experiences tremendous pressure and thus naturally affects the quality of the final product.

Fishing stock of deep-sea fish can be described in two words – huge reserves, and the depths of 1200-2500 meters are virtually unexplored. Large reserves of raw material leads to simple fact that our medium-size longline vessels can effortlessly harvest 30-40 metric tons per day, whereas harvest of traditional species is approximately 4-6 metric tons per day.
Given the substantial margin of deep-sea fish and increased demand for this product and with the long-term experience gained in deep-sea harvesting, serious and expensive modernization of whole longline fleet of our company was done for the last 5 years, using the most advanced technical and technological equipment and fishing gears that allowed our vessels to increase catch extremely and do permanent year-round harvesting from depths of 1200 -2500 meters.
Our company's grenadier catch in 2019 amounted to 16,3 metric tons, accounting for 55% of the total catch of all vessels of the Far East basin.
In 2020 we expanded the longline fleet with longliner called "Triumf" so our longline fleet now includes 8 vessels. All the vessels are ready for permanent year-round harvesting from extremely depths (1200 – 2500 meters).
Our customers have contributed in sustaining this very expensive deep-sea fishery by developing the market and advertising the market value of deep-sea product and gave us product price grown significantly.
As a result, we significantly increased our revenue which allows us to continue these expensive operations. This couldn't have happened without our customers who have come to value this deep-sea product.
We thank everyone who was involved in the development of these products for the Asian market.